When it comes to our Day Services, let's start with what we're NOT. We're not simply caretakers because we believe that adults should be concerned with more than meeting basic needs. We are not a pre-vocational program because we don't believe adults need to meet high-stakes criteria before they are given an opportunity to try. And we're not simply a school, although there will undoubtedly be learning.
What we're trying to say is that we don't fit neatly into one category. We believe in services that result from listening to the person living their life and creating person-centered plans. We hold the unwavering belief that all people are equal and can contribute in the way of their choosing — here are a few ways that's been happening for us:
Last month's Around Here covered places we visited, focusing on outdoor activities.  While we love traveling & soaking up the sun, in March we ALSO tried lots of new INDOOR things. Check out all the cool stuff we did (right inside the four walls of 110) this month!
Around Here, we'd:  Rather Add Color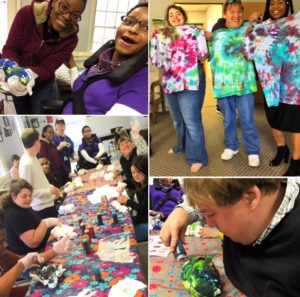 Have you ever tye-dyed a t-shirt? Socks? Underwear? (haha) Seriously, the sky is the limit when it comes to this funky-fresh activity, the only rule we have is B.Y.O.T. (bring your own tee!) We purchased a tye-dye kit for about ten bucks, watched a Youtube video for directions, and then went color wild. Our jaws dropped on reveal day as we un-banded each item and saw our once plain white tee's come to life. BOL Spring wardrobes now have new additions! GROOVY BABY!
Around Here, we: Play to Win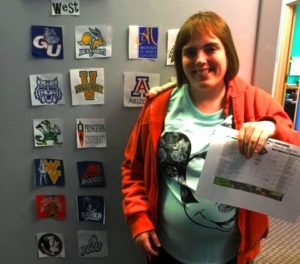 What's March without some MARCH MADNESS BABY! We love friendly competition around here, and NCAA tournament time is the perfect way to get us going. Not only is Branches decorated down with basketballs, we also posted visual supports of each team and their mascot around the building to aide us in choosing teams to complete our bracket. Did I mention prizes were involved?
Around Here, we: Kill'em with Kindness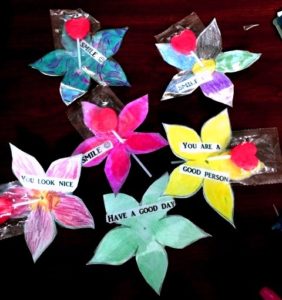 Have you heard about the Random Acts of Kindness (RAK) Initiative? Check it out! We completed our own kindness act by showering our service providers, friends, even strangers, with compliments and positivity on cards that we made. We sealed them with a lollipop for extra sweetness, and passed them out all week. To watch our compliment project from start to finish, you've got to see this post !
Around Here, we: Believe that Happiness is Homemade!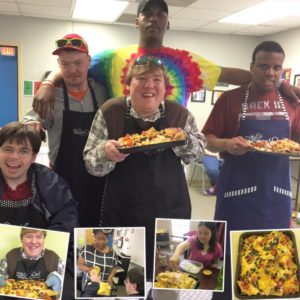 You've probably heard of Taco Tuesday, but around here, there's always a TWIST. Our cooking class theme: Nacho Tuesday.  We dusted off our aprons, rolled up our sleeves, and dove right into this baked nacho recipe :
Prep time: 15 minutes. Cook Time : 5-7 minutes.
Ingredients: 1  ½ Can of Black Beans(drained) . 2. 1 Can Rotel tomatoes and green peppers(drained). 3. 1 ½ cups of Kraft sharp cheddar shredded cheese. 4.  Can of Tostitos salsa 5.  Can of Tostitos "Salsa con Queso" dip. 6. ½ onion finely chopped.
Put all these toppings on top of some Tostitos Hinted Lime chips, bake on 350 degrees for 5-7 minutes, and thank us later.
Around Here, we: Slay St. Patty's Day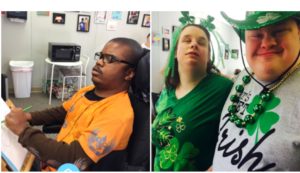 March 17 is always a fun day at Branches. This year, not only did we get festive for the occasion, but we spent a whole week breaking down the holiday. After decorating shamrocks for good luck, learning the history behind the holiday, and having our own green party, I'd say we are pros at Patty-ing!
Around Here, we:  Value Healthy Relationships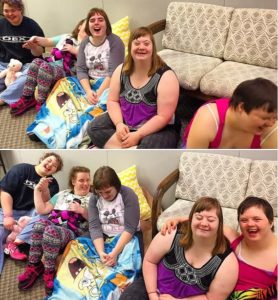 Our favorite thing to do around here is hang out with the people we love! We have daily classes about building relationships and maintaining friendships, but most importantly we practice putting these principles into action every day. We avoid unhealthy and confusing relationships, and value people that are good to us.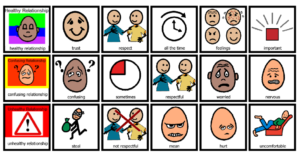 Whether we are cheering our friends on during karaoke Fridays, playing a game together, or supporting one another through hard times, at Branches we work hard to keep our friend circles tight.
Does this sound like something you'd like to be part of? Reach out on social media, via email: info@branchesva.org or by visiting our day services page.